THE HEALTH SHOPPE AT VANDALUR IS THE LACE YOU WANT TO GO, TO PURCHASE ALL-ORGANIC HEALTHY PRODUCTS.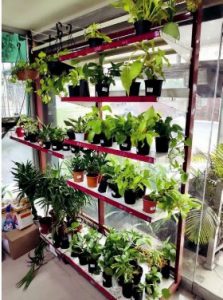 Health is wealth and we need to be very happy that as a society, we are slowly gaining awareness about adopting our traditional methods of food and exercises to lead a healthy life. The forgotten Indian way of life where food is the medicine is what The Health Shoppe is aiming to revive. For 10 years the shop located in Vandalur has been catering to new and regular customers gifting good health. The proprietor Ramachandran Nagarathnam was part of a heavy metal factory and later entered the field of wellness products when he fell in love with the ancient Indian way of life. The 3,000 sq.ft. shop has a wide range of quality products under categories like acupressure, beauty care, diabetic care, food, health drinks, oils, palm products, pottery, vettiver products and much more. The shop is a dedicated territory of healthy promises. "It is only because of not living and eating healthy, we are resorting to medicines for every health complication," begins Ramachandran. He urges everyone to go organic and switch the products they can to tread on the fit path. "Oil is very essential in our everyday cooking. But oil companies heat the oil up to 400°C and all the nutrients from the oil are lost. They also make the oil so clean and transparent by treating them. But we source oils directly from the Chekku (a traditional method). They are cold-pressed, therefore involve no loss of nutrients. Our oil is sourced directly at the place of manufacture from Kangeyam," reveals Ramachandran. Butter from Oothukuli, Copper products from Gujarat, other wellness products from Villupuram –
The Health Shoppe procures products from places it is known for. When asked the customers' favourites – Ramachandran responds by saying, "Our regulars love the aloe-vera products. It has amazing skin benefits. I have witnessed disappearing skin marks in a few friends. In the diabetic section, amla juice is a best-seller as we have received good feedback. Vettiver pillows were a huge hit – Vettiver has coolant properties and fans made from that provide a relaxing effect." Go natural with organic biotic products from The Health Shoppe and look out for their website which will be loaded with fresh stock soon.